Order food from your favored set of the restaurant is not a new phenomenon. However, ordering it online is certainly a matter of advanced technology.
At present smartphone age, you have to peep into your on-demand food delivery app, place your order and get your meal delivered in a matter of short time. With the advent of such high tech means, you are no longer required to stand in the queue of the restaurant and wait for the order to come in your hands.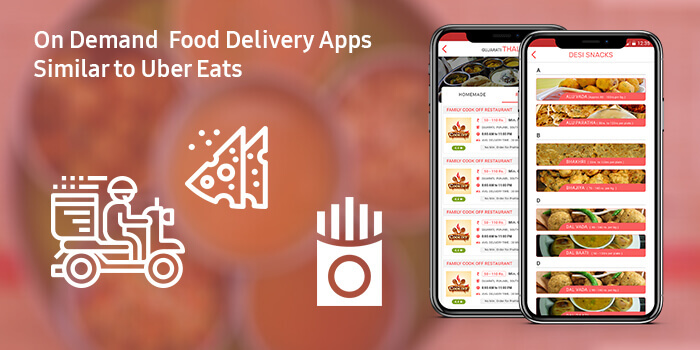 Increasing Penetration of Online Delivery in the US Food Industry. Working professionals, students, and even domestic individuals are making the most out of several food delivery applications to satisfy their taste buds.
Because of this phenomenon, around 20% of customers in the US like to use food delivery apps for ordering their meal online. Moreover, 50% of the customers are really appreciating the way meal delivery has taken a modified touch.

Source: CB Insights
As per the report of Morgan Stanley Research estimates, the present total delivery sales in the US Market is estimated to be $210 Billion. In addition, GrubHub contributes the majority of the market share in terms of delivery lip-smacking meals to the people of Atlanta and other major areas of US.
Create Your Own Profitable Online Food Delivery Application
No doubt in saying the fact that, increasing penetration of smartphones has given wings to users finding anything to their daily interest. Finding quality, affordable and sumptuous food is the plus point of this smartphone revolution.
Therefore, if you like offer food delivery services with the help of an online application system, then you first need to understand the basic features or components of the same.
Read more: How much does it Cost to Make Medical Apps for Healthcare Professionals
Features Are as Follows
Registration:

A simple mobile-friendly registration process is the starting step towards creating a huge customer base.




Enticing Design:

Overall placements of the multiple dishes options, price, and menu and restaurant list should be created by taking customers viewpoint in mind.




Wide Options

: The wide menu is necessary to offer multiple choice of cuisines to customers.




Strong Network Base

: To be on a profitable side, your food delivery app must reach to multiple restaurants especially the popular ones.




Stipulated Time of Delivery

: One of the important components is the delivery time.   Estimated delivery time increases the chances of a strong customer base.
Read More: On Demand Laundry Mobile App Features & Development Cost
Tracking Facility

: Location tracking is a necessary feature for customers to locate their order and get an idea of estimated delivery time.

Multiple Pay Modes

: Online payment facility is like the backbone of food delivery applications. It is one of those reasons for driving maximum sale and revenue to the developer as well as to the restaurant owners.

Feedback Option

: Much of the sales depend on how the customers review the service. So, better is to have the rating, review and feedback session ready in your online food delivery app.

Payment Gateways

: Need not to forget is having multiple payment options in the app. Whether it is like through cash, Paypal or even e-wallet, you should have it all to bring value to the customers.

Focus on The Challenges
It is essential for you as the next online food delivery provider to keep a check over the following few challenges:
Less Knowledge of Food Price

: Working out on margins between you as a provider and the restaurant owners what decide your prominent position in the market. It is certain that small-scale players are not fully aware of how to price food items keeping the personal profit in mind.

Understanding the Customer Requirements

: Mere offering food items on the app is not enough. Customers constantly look for something extra like benefits, discounts, combo offers, special hour price and all that. Not understanding such kinds of customer's preference is certainly a shortfall on your part.

Accessibility and Logistics

: Maintaining a balance between delivery boys and delivery points is necessary for business success. Treat this as a challenge or a major issue to decide your selective areas or the whole city.

Quality of Food

: Quality remains the issue at every single stage. So, find answers to different questions like how to let food items be fresh and healthy? How to keep the nutrients of the food intact while delivering?

Meeting the Demand:

No doubt, you wish to have increased sales in the online food delivery app business. However, meeting a plethora of customer's demands is not that easy. Keeping the volume of deliveries intact with the onboard logistic team is yet another issue on your part.
Read more: How much does it Cost to Make Medical Apps for Healthcare Professionals
Estimate The Developmental Cost
Now that, you are thinking of starting your own food delivery application. Necessary is to estimate the total cost of Atlanta based delivery app solution.
In that prospect, you can fully rely on our app development service to cost you the affordable price. We have the expertise to create a user-friendly application with an approx budget anywhere in between $7000 USD to $10,000 depending upon your requirements.
Additional Factors That You Look Forward to
We are fully aware of the booming online food delivery industry in Atlanta. Having sound knowledge of the market trends, major players and the current demand of customers is our first approach to develop your working app.
We first like to know your business requirements and then create a roadmap to satisfy the same. In addition, multiple testing methods are used to meet your demand and finally giving the required product on time that brings value to your customers.
Stop thinking and start driving sales to your online food delivery application fully created with our professional hands. It is time to adopt the new sphere of technology and get on the path of continued success keeping customer's demands in mind.